Download BSS Valve Cut Sheet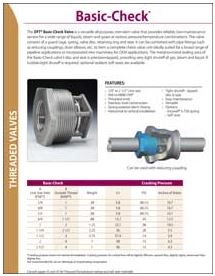 The Basic-Check Valve (BSS) is a versatile all-purpose, non-slam, spring assisted check valve that provides reliable, low-maintenance service for a wide range of liquids, steam and gases.
The threaded in-line design features a threaded inlet (FNPT) and O.D. (MNPT) which can be combined with pipe fittings such as reducing couplings, drain elbows, etc. to form a complete check valve unit ideally suited for pipeline applications or incorporated into machinery for OEM applications. Additionally, the all-stainless steel construction is suitable for cryogenic applications.
The BSS is available in line sizes ¼" through 2-1/2" inlet; rated cold working pressure (CWP) varies from 450 – 6000 psig depending on line size and materials of construction. The precision lapped metal-to-metal sealing area provides exceptionally tight shutoff in accordance with MSS-SP61, the standard seat leakage requirement for gate, globe, and check valves in the United States. Resilient soft seats are available for applications requiring bubble-tight shutoff.
Standard seat materials include 303 and 316 stainless steel with 316 stainless steel trim. Inconel X-750 springs are also available. Optional soft seat materials include Buna-N, Viton®, Teflon-Encapsulated Viton®, EPDM, and Zelon®, depending on temperature and chemical compatibility requirements.
To download the complete BSS valve cut sheet, simply fill out the form to the right. Contact DFT for additional materials.