Download Our BSSV Valve Cut Sheet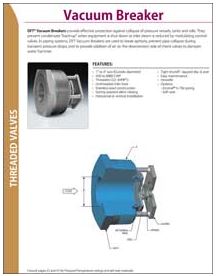 DFT Inc.'s line of Vacuum Breaker (BSSV) valves provide effective protection against collapse of pressure vessels, tanks and rolls during transient pressure drops in your piping systems.
They are used to break siphons, prevent condensate "back-up" when equipment is shut down or inlet steam reduced by modulating control valves, and to provide addition of air on the downstream side of check valves to dampen water hammer.
The BSSV features a threaded O.D. (MNPT) available in line sizes 1" – 4"; rated cold working pressure (CWP) varies from 450 – 6000 psig depending on line size and materials of construction.
The precision lapped metal-to-metal sealing area provides exceptionally tight shutoff in accordance with MSS-SP61, the standard seat leakage requirement for gate, globe, and check valves in the United States. Resilient soft seats are available for applications requiring bubble-tight shutoff.
Standard seat materials include 303 and 316 stainless steel with 316 stainless steel trim. Optional soft seat materials include Buna-N, Viton®, Teflon-Encapsulated Viton®, EPDM, and Zelon®, depending on temperature and chemical compatibility requirements.
To download the complete BSSV valve cut sheet, simply fill out the form to the right. Contact DFT for additional materials.