Download DLC® Valve Cut Sheet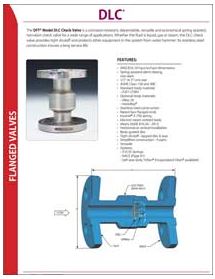 The DLC® Check Valve is a corrosion-resistant, dependable, versatile and economical check valve for a wide range of applications involving liquids, gases or steam.
The non-slam, spring assisted design provides tight shutoff and protects other equipment in the system from water hammer. A simplified 4-part design, electron-beam welded center body joint, and stainless steel construction ensures a long service life.
The DLC® is available in line sizes ½" – 3" and ASME pressure classes 150 and 300. Raised face flanged ends meet ASME B16.10 face-to-face dimensions and can be installed in either horizontal or vertical orientation.
The precision lapped disc & seat provide exceptionally tight shutoff in accordance with MSS-SP61, the standard seat leakage requirement for gate, globe, and check valves in the United States. Teflon-Encapsulated Viton soft seats are offered for applications requiring bubble-tight shutoff.
Standard materials include 316 stainless steel (A351 CF8M) body and seat, 316 stainless steel disc, and Inconel X-750 spring. Optional materials include Alloy 20 (A351 CN7M) and Hastelloy C (A494 CW-12MW) body & seat, with Hastelloy C-276 disc & spring.
To download the complete DLC® Valve Cut Sheet, simply fill out the form to the right. Contact DFT for additional materials.