Download SCV-R Valve Cut Sheet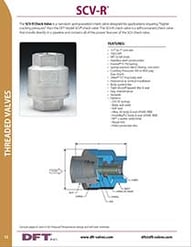 The SCV-R® Model Check Valve is a self-contained valve that is designed for higher cracking pressure applications. This in-line restrictor check valve has all the benefits of its counterpart, the DFT Model SCV®, so high quality is assured.
The SCV-R® has a non-slam, spring-assisted design, which helps reduce or eliminate water hammer. This valve can be specified with either NPT or socket-weld (SW) ends; the stainless steel construction of the SCV-R® provides the strength and corrosion resistance needed even the harshest of applications.
SCV-R® check valves have a cold working pressure (CWP) of 750 psi and are available in line sizes ranging from ½" to 2"; the maximum weight of these valves 7.7 lbs.
Similar to the SCV®, the SCV-R® valve is comprised of a seat, disc, spring, and "O" ring, but the restrictor model also has shims (made from A240 316) and a spring retainer (made from A479 316). The cracking pressures handled by the SCV-R® range from .08 psig to 40.8 psig.
Additional options include:
A soft seat

316 SS springs

Alloy 20 or Hastelloy® body and seat material

Repair and field conversion kits are also available.
The DFT SCV-R® Model Check Valve is versatile and can be used in either vertical or horizontal installations. Additionally, maintenance on the valve (if it is ever needed) is simple to conduct, which helps extend the service life.
This model can be used in applications such as hydraulic lines and pump, boiler, and compressor discharge—please note that the SCV-R® check valve is not recommended for discharging of reciprocating compressors.
To download the complete SCV-R valves cut sheet, simply fill out the form to the right.