Download Our Y-Calibur® In-line Silent Check Valves Cut Sheet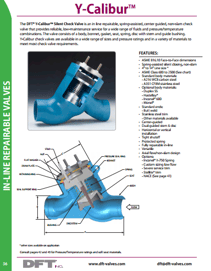 Y-Calibur® – The DFT® Y-Calibur® Check Valve is specially designed with reliable and versatile service in mind. The Y-Calibur® valve is a silent, in-line check valve that is fully repairable—this low-maintenance product helps keep repair costs down, and is suitable for various fluids, pressures, and temperatures.
This non-slam, center-guided valve has several components, each consisting of distinct materials. The components include: the body and bonnet, available in A216 WCB carbon steel or A351 CF8M stainless steel material; the spring, which facilitates silent closing is available in A313 316 stainless steel; the bushing, consisting of A479 316 stainless steel; and the seat, consisting of A351 CF8M stainless steel.
Additional components include a stem and disc assembly (A351 CF8M/A479 316 material), a stud (A193-B7) and nut (A194-2H), and a seal (graphite).
Though the standard materials for this check valve are carbon and stainless steel, other materials are available. Optional materials include: Duplex SS, Hastelloy®, Inconel® 600, and Monel® (body); Inconel® X-750 (spring); and Stellite® (trim).
Y-Calibur® Check Valve line sizes range from 4" to 14"* in ASME Class 600, 900, 1500, and 2500. These valves are rated to several pressures and can meet most check valve standards—including the ASME B16.10 standard for valve face-to-face dimensions.
*Other sizes available on application, contact DFT for more information.