Download Excalibur® NAB Valve Cut Sheet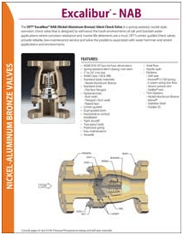 The DFT Excalibur® NAB is an axial flow, non-slam check valve that was specifically designed for the harshest industrial applications. The valve's nickel-aluminum bronze (NAB) body is highly durable and is able to withstand any salt or brackish water environments.
In addition to providing exceptional corrosion resistance, the Excalibur® NAB can reduce the effects of common problems associated with water hammer. Available in ASME Classes 150 and 300 and line sizes ranging from 2" to 24", Excalibur® NAB check valves offer versatility to several applications.
This axial flow, nozzle style check valve features spring-assisted silent closing and tight shutoff, and is simple to maintain. The Excalibur® NAB valve has a two-piece body, a protected spring, flat face flanged ends, and a center/dual-guided stem.
Though the standard material for this check valve is nickel-aluminum bronze, other materials are available; an Inconel® X-750 spring is available, as well as Monel®, Stellite®, stainless steel, and duplex stainless steel trim options.
Additional valve options include a soft seat, custom sizing low flow, and severe service trim. Also, valve ends can be raised face or butt or flanged x butt weld.
The Excalibur® NAB check valve meets the requirements of ASME's B16.10 standard for valve face-to-face dimensions.
Learn more about this heavy-duty control valve by contacting DFT today.