Download FBC
®

Check Valve Cut Sheet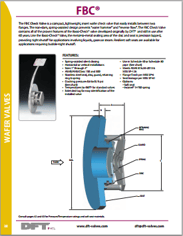 Containing all of the proven features of the Basic-Check valve that was developed by DFT® 60 years ago, the FBC® Check Valve is integral for preventing water hammer, reverse flow, and other common valve system issues.
The FBC® Check Valve is a non-slam, spring-assisted valve that can easily be installed between two flanges due to its compact and lightweight insert wafer design. Tight shutoff capability for applications using gases, liquids, or steam is achieved through precision lapping of the disc and seat. When bubble-tight shutoff is needed, soft seats are available.
Ranging from 1'' up to 4'', there is a total of six sizes available in the FBC® Check Valve. ASME/ANSI Classes 150 and 300 are offered, and the valve is suitable for both horizontal and vertical installations. The seat, disc, guard, retaining ring and spring are all made from stainless steel.
Cracking pressures from 0.6 to .15 psi are available, and standard valves can be used for temperatures up to 450F. The FBC® Check Valve can be used in Schedule 40 or Schedule 80 pipe, and it meets ASME B16.34 and MSS SP126.
For easy identification of the valve after installation, an extended tag is included. Available options for this valve include a soft seat and an Inconel X-750 spring. The valve has a flange finish as per MSS SP-6 and seat leakage as per MSS SP-61.