Download GLC
®

Cast Iron Check Valve Cut Sheet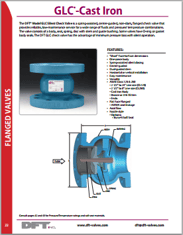 DFT's Cast Iron GLC® Check Valve offers minimum pressure loss performance along with silent operation. This non-slam valve is center-guided, spring-assisted, and is capable of handling a wide range of temperature/pressure combinations along with a variety of system fluids. Each valve is constructed with a body, seat, spring, disc with stem and guide bushing, and specific models are available with O-ring or gasket body seals.
As its name implies, cast iron is the material used to create the body of the GLC® Silent Check Valve, and either bronze or 316 stainless steel is available for the trim. The valve is made with a one-piece body and "short" face-to-face dimensions. Depending on the application, both horizontal and vertical installation is possible.
This nozzle style, axial flow valve is flat face flanged and meets AWWA seat leakage standards. A total of thirteen valve sizes are offered, running from 2 ½'' up to 24''. All of the sizes are available ASME Class 125, and sizes ranging from 2 ½'' to 8'' are also offered in ASME Class 250.
For applications with temperatures ranging from 180°F to 200°F, the stainless steel trim option is recommended. When bubble-tight shutoff capability is required, Buna-N soft seat is an available option.
Low-maintenance service and reliable performance are offered by the cast iron GLC® Check Valve. The valve uses a dual-guided stem and requires only minimal maintenance.