Download GLC
®

Check Valve Cut Sheet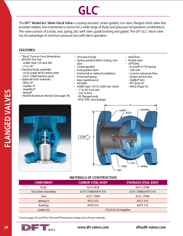 The DFT GLC® Silent Check Valve is a center-guided, spring-assisted flanged valve that offers the advantages of minimum pressure loss and silent operation. This non-slam valve can be used in conjunction with several system fluids, and is also capable of handling a number of different temperature and pressure combinations. Components of the GLC® Check Valve include a body, seat, spring, disc with stem, guide bushing, and gasket.
There are two standard body materials offered in the GLC® valve: A216 Grade WCB carbon steel and A351 CF8M stainless steel. Additional options include Hastelloy, Buplex SS, Alloy 20, and many others. The valve has a one-piece body design, along with a dual-guided stem and protected spring.
Sizes for the GLC® Check Valve run from 1'' up to 42'', and the valves are available in ASME class ratings from 150 RF to 2500 RF (depending on size). RF flanged ends are provided on the valve, in addition to 316 stainless steel trim. This is a nozzle style valve which offers axial flow, and it can be used in both vertical and horizontal installations.
Available options for the GLC® Silent Check Valve include an Inconel X-750 spring, soft seat, custom sizing low flow, Stellite or severe service trim, and RTJ ends. Short face-to-face dimensions are present on the valve, and models from 2'' to 24'' in the ASME 150 and 300 classes.
Additionally, the GLC® Check Valve meet the MSS-SP61 industry standard for seat leakage.