Download GPV Check Valve Cut Sheet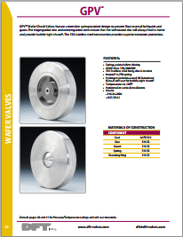 A wafer check valve, the GPV is a non-slam spring-assisted valve meant for preventing flow reversal for both liquids and gases. With 316 stainless steel construction, superior corrosion protection is present in this valve. A bubble tight shutoff can be achieved thanks to an edge-guided disc and center-guided stem which direct the soft-seated disc to always find its home.
The GPV valve is only available in a 2'' size, however, there are three different ASME Class ratings available in that size – 150, 300, and 600. The seat of the GPV Wafer Check Valve is made from A479 316, while the rest of the product is constructed with 316 SS. This valve meets several industry standards, including B16.34-2004 and MSS SP-61.
Temperatures up to 250°F can be used with this valve, which features an Inconel X-750 spring and a hydrogen peroxide-cured 90 Durometer Buna-N soft seat. The weight of the valve is 2.6 pounds in the 150 Class model, and 3.0 pounds in the 300/600 Class.