eBook: The Rise of Chemical Processing in America
How the Shale Revolution Impacts the Consumer Goods Market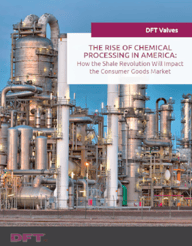 The Shale Revolution, a phenomenon emanating from the oil and gas industry, has opened up new opportunities for manufacturing in America. Inside this eBook, we explore the dynamics, trends, and revenue opportunities for chemical processing plants.

Inside the 6-page eBook, we answer the following questions:
How is ethylene made?

What impact does ethylene have on the consumer goods market?

What does this mean for the future of manufacturing in America?
To download a free copy of the eBook, simply submit the form.
If you are a chemical processor and need assistance choosing the proper valve for your plant, contact our valve experts for a consultation.