eBook: Severe Service Control Valves Explained
What is Severe Service?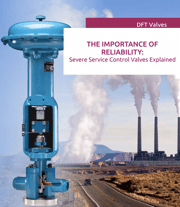 Considered somewhat of an ambiguous concept, severe service can be described as any application involving:
High pressure differentials

Frequent c

ycling

High levels of abrasion

Corrosion

Extreme temperature

Or a combination of the above
Frequent maintenance or valve repair can be an indication of a severe service condition. To help explain what are severe service control valves and what types of applications require them, our valve experts created an eBook. Inside, readers will find a helpful checklist called, "Is the Proposed Replacement Severe Service Valve Right for Your Application?" (page 6).