Download PDC
®

Check Valve Cut Sheet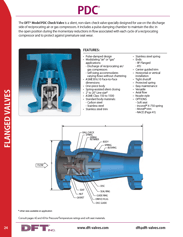 The DFT PDC® Check Valve is a silent, non-slam valve specially designed for use on the discharge side of reciprocating air or gas compressors. This check valve allows fluids such as liquids and gases to flow in only one direction. Additionally, the PDC valve includes a pulse-dampening chamber, which keeps its disc in the open position during the cycling of a reciprocating compressor; this unique feature aids in the prevention of premature seat wear.
The construction of the PDC® Check Valve includes standard body materials of either carbon steel or stainless steel, along with stainless steel trim and a stainless steel spring. Seven valve sizes are available, ranging from 2'' up to 12''(consult DFT for additional sizes/pressure classes). The valve has a one-piece body, center guided trim, and a protected spring. Horizontal or vertical installation is possible with the PDC valve.
Options available on the valve include soft seat, Inconel® X-750 spring, Monel® trim, and NACE. This is a versatile nozzle style valve which allows an axial flow and provides for easy maintenance and a tight shutoff. The PDC® Check Valve has a Durlon® 9000 gasket for the 150 and 300 Classes, and a stainless/graphite gasket for the 600/900/1500 Classes, with a maximum temperature of 500F.
The guide ring in this valve is Teflon®, while the bushing is Rulon®. RF Flanged and RTJ ends are both available, and the valve's self-sizing facilitates varying system flows without chattering.
This valve meets several industry standards, including ASME B16 (for face-to-face dimensions). Available options range from ASME Class 150 to 1500.
Learn more about this control valve by contacting DFT today.