Application Success Stories
At DFT Inc. we understand that no valve is completely "one-size-fits-all" which is why we work with our customers to ensure we supply the right check valves for their unique system configuration.
We have compiled a list of success stories based on different applications, from different industries, that have faced challenges that we were able to solve. Problems that we helped solve include: excessive cycling of a cooler system in the power generation industry and water hammer issues in the mining industry.
Our Application Success Stories showcase that we are well-equipped to help your plant overcome its unique challenges.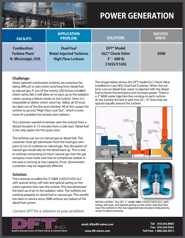 To see the Application Success Stories for the following industries please fill out the form:
Boiler Feed Pump
Building Maintenance
Chemical Processing
Food, Beverage, & Pharmaceuticals
Mining
Natural Gas
Petroleum Production
Power Generation
Primary Metals
Pulp & Paper
Learn more about becoming the next success story by contacting DFT today.