SCV® Check Valve Cut Sheet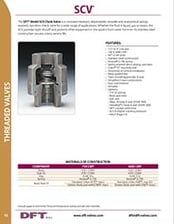 The DFT Model SCV® is a threaded in-line check valve that is equal parts dependable and versatile. This model can help protect other system equipment and componentry from the effects of water hammer—a common issue that can lead to expensive pipe and component repairs in many applications.
SCV® Check Valves have a spring-assisted, non-slam design, and they are available in several specifications. Valve line sizes range from ½" to 3", with weights of 1.1 lbs. through 18.8 lbs.
The SCV® check valve is basic simplicity in its construction, with major internal components that consist of a seat, a spring, an edge-guided disc, and a body seal (material selected to be compatible with the media going through the valve).
These check valves have a basic stainless steel construction, which provide enhanced corrosion resistance needed for harsh, demanding environments. Materials include:
ASTM A351 CF8M for the body and seat (with Alloy 20 or Hastelloy® C options);

ASTM A240 316 for the disc; Inconel® X-750 for the spring (with a 316 SS option);

Zelon® "O" ring for the body seal (with an option of a seal welded body joint, capable withstanding up to 700°F).

Additional options include a soft seat and NPT or socket weld ends.
With cold working pressures (CWP) of 750 and 3600 psi, the SCV® Check Valve has a tight shutoff that can handle any fluid, whether it's gas, liquid, or steam.
DFT's SCV® Check Valves are easy to maintain and can be installed in either horizontal or vertical configurations. These valves are ideal for applications in gas transmission, mining, primary metals, and other industries.To download the complete SCV®Check Valve Cut Sheet, simply fill out the form.