Are Your Check Valves Sized Properly?
This DFT webinar discusses sizing check valves for the application and not just the line size.
Sizing check valves seems easy enough; look at the line size, find one that fits and you're good to go right? Not exactly.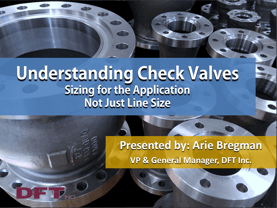 Choosing the right check valve is critical to a properly designed process system. The right check valve not only improves overall system reliability and prevents water hammer; it lowers maintenance costs in the long term.
DFT's Vice President and General Manager, Arie Bregman gives an in-depth look at understanding what it takes to properly size check valves in this Understanding Check Valves Webinar.
In this webinar, you will learn:
The many types and styles of Check Valves
Background on piping design and flow sizing of valves
The importance and benefits of sizing check valves
Receive exclusive access to the downloadable slide presentation and pre-recorded webinar, by submitting the form.